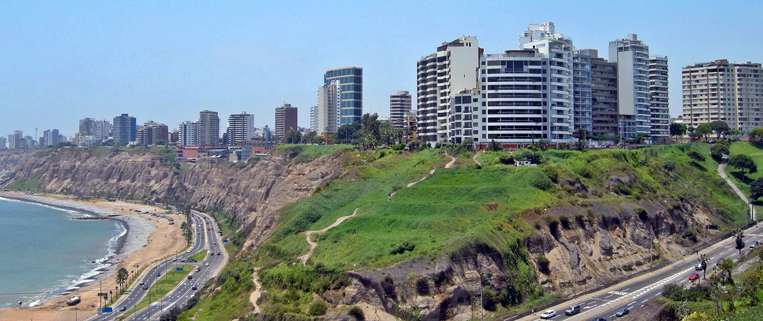 LATAM: REGIONAL OVERVIEW  by Anuario Inmobiliario 2013 (from Deloitte LATCO report)
The Real Estate Market: An attractive destination for global investment
… where the world´s leading economies are experiencing a slowdown, Latin America is emerging as a great attraction for investors and is seen as a promising destination, since it is the region where the greatest growth is expected in the coming years…
PERÚ: TRADITION & INNOVATION  from  FOCUS  INVESTMENT  LATINOAMERICA  2013
With a dynamic and sustained growth, Peru opens its doors to the world to consolidate its position.
… The real estate market it´s in full expansion. Between 2007 and 2012, the real prices of the residential buildings in Lima have risen more than %65, and this value raises beyond 100% in the most expensive areas (Miraflores, San Isidro, Santiago de Surco, La Molina y San Borja). This increase on the prices has awakened the debate about the existence of a real estate bubble; but from the point of view of the FMI there wouldn't be such a bubble, because there still exists a great unsatisfied demand concentrated in the residential sector for the surging social stratum…
…The mortgage has keep a strong expansion rate, which was restrained by the authorities with the objective of ensuring its sustainability…
… Diverse analysts and international civil servants agree that Peru today it's a macroeconomic star and has become a model to follow for the entire region: the stability macroeconomic, the opening of the economy and the respect for the game rules during the last 20 years has allowed the predictability, a very important theme for the local and foreign investors…
Projects in portfolio: SAN BORJA BUILDING  in  Lima, PERU
This is an 80 units housing complex of about 114 sq mt each; with superb finishings. Located in a residential area with good services near the main access roads and parks). Its commertial target are socioeconomic levels A and B.
This project provides over 20% return per year…!   plus cap rate…!
.
http://www.ccyasoc.com.ar/wp-content/uploads/2013/11/perulima.png
466
763
ccyasoc
http://www.ccyasoc.com.ar/wp-content/uploads/2016/12/ccyaclgyamenu1.png
ccyasoc
2013-11-25 20:27:25
2016-12-15 13:08:41
Newsletter - October/November 2013